The Funtimbers™ Difference

Funtimbers™ are your answer to permanently maintaining safety surfacing.
SAFE
Funtimbers™ have rounded corners and no sharp edges, making them safe for any play area, and unlike untreated wood timbers, Funtimbers™ will never rot, decay, splinter or secrete poisonous arsenic.
ECONOMICAL
Funtimbers™ are the most cost-effective, easy-to-install retaining system for your playground. Funtimbers™ are constructed of polyethylene with UV stabilizers and are extremely durable, yet lightweight, and require far less labor than the conventional wood timber.
Once installed, Funtimbers™ are virtually maintenance-free.
Our 4' length is easier to work with than 6' timbers. This allows for unlimited varieties of design, and requires only one spike for secure installation.
Our patented snap-in spike containment enables the Funtimbers™ and spike to ship as one unit, which saves you time and money on installation an prevents loss in shipment.
Our Spikes are ¾" diameter x 28" long button head, zinc coated steel spikes.
12" timber and spike

Actual size: 4'-4"L x 12"H x 4"W
Weight: 12 lbs.
9" timber and spike

Actual size: 4'-4"L x 9"H x 4"W
Weight: 10 lbs.
Funtimbers™ RETRO-FIT SYSTEM
The Retro-Fit System contains two retro-fit ends and two filler ends. By using the retro-fit ends you can customize perimeter lengths. To use, simply cut the Funtimber™ to length and insert the retro-fit end. You get a finished appearance, which can be flush mounted to existing walls, fences, etc.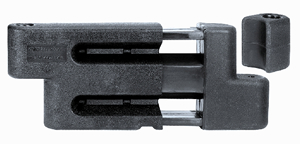 Childforms takes pride in offering one of the best warranties in the playground industry. Please call for warranty information.